DupliTrade
Geautomatiseerd handelen, maar dan simpel
DupliTrade is een specifiek, transparant en gebruiksvriendelijk handelsplatform waarmee u de acties van deskundige handelaren automatisch en rechtstreeks naar uw eigen AvaTrade-handelsrekening kunt kopiëren. DupliTrade tilt uw handelsactiviteiten naar een hoger niveau met een rijke portefeuille en een selectie succesvolle strategieën van succesvolle handelaren, gekozen op basis van bewezen geschiedenis en eerdere trades.
Eenvoudige registratie
Open uw DupliTrade-rekening en vergroot uw handelskansen met signalen rechtstreeks op uw AvaTrade-rekening. Met DupliTrade kunt u uw handelsactiviteiten verbeteren en uitbreiden door de beste handelaren op de markt te volgen.


Kies uit de allerbeste
DupliTrade geeft een overzicht van de geselecteerde strategieleveranciers, ieder met andere handelsmethoden en -stijlen zodat u uw portefeuille kunt opbouwen en verbeteren.
Voordelen van handelen met DupliTrade
Of u nu beginner bent of het gewoon geen tijd hebt om de markten te analyseren, een AvaTrade DupliTrade-rekening biedt talloze voordelen. Ga vanaf dag één de markten op en blijf handelen, zelfs als u niet online bent.
Aan de slag!
Met een storting vanaf € 2000 krijgt u toegang tot DupliTrade's portefeuille van vooraanstaande strategieleveranciers, die automatisch op uw eigen MT4-rekening met variabele spreads worden verhandeld. Als u nog bezig bent de markten te leren kennen, kunt u ook kiezen voor een demorekening zonder risico's om te oefenen.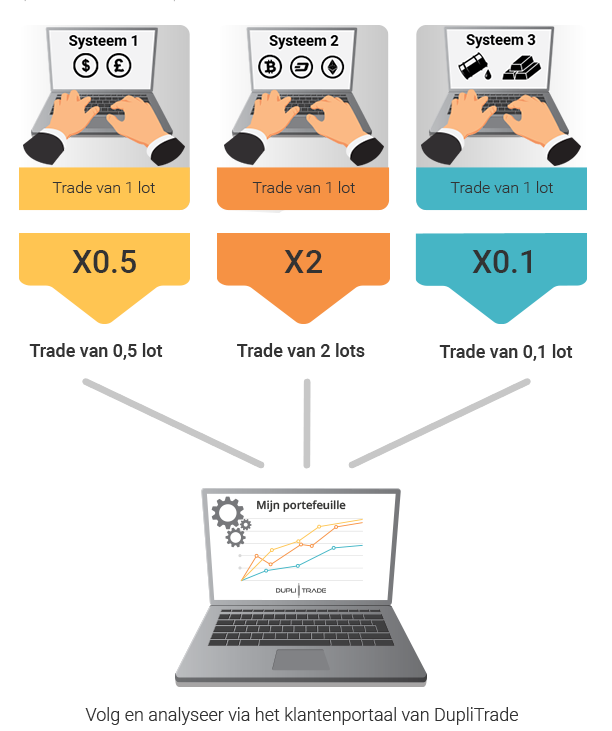 BELANGRIJKE MEDEDELING: De informatie en analyses die hier worden verstrekt, worden geproduceerd door DupliTrade Limited. AvaTrade heeft de informatie zonder wijziging of verificatie gereproduceerd en verklaart niet dat dit materiaal juist, actueel of volledig is en zo zou het ook niet moeten worden beschouwd. Het materiaal is algemeen van aard en is uitsluitend voorbereid voor informatieve doeleinden zonder rekening te houden met eventuele investeringsdoelen, de financiële situatie of middelen van een individu. De informatie mag niet als aanbeveling worden beschouwd; noch als aanbod om te kopen of verkopen; noch als aansporing om een effect, financieel product of instrument te kopen of verkopen; of om een bepaalde handelsstrategie uit te voeren. In het verleden behaalde prestaties vormen geen garantie voor toekomstige resultaten.