One Cancels the Other-orders
One Cancels the Other (OCO) is een order die 2 instaporders combineert. Als een van de orders wordt uitgevoerd, dan wordt de andere automatisch geannuleerd, en garandeert dat, ongeacht de beweging van de prijs, er slechts één order kan worden uitgevoerd.
Hoe kunt u One Cancels the Other-orders gebruiken?
One Cancels the Other-order instellen
Lokaliseer het gewenste instrument in de Koerstabel in de gewenste kolom, kopen of verkopen. Klik met uw rechter muisknop op het instrument en selecteer OCO invoeren.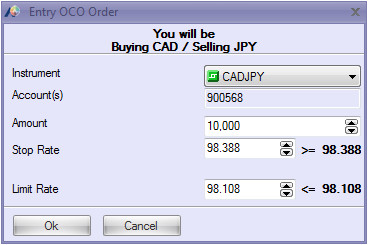 Stel uw voorkeur in in het OCO-ordervenster.
One Cancels the Other-order instellen op een bestaande instaporder
Om een OCO-order in te stellen, opent u eerst een instaporder. Deze verschijnt in het ordervenster in uw platform.

Wanneer de eerste order verschijnt, zweeft u met de muis boven de order, klikt u op de rechter muisknop en selecteert u de OCO-link. Kies dan Instellen nieuwe order.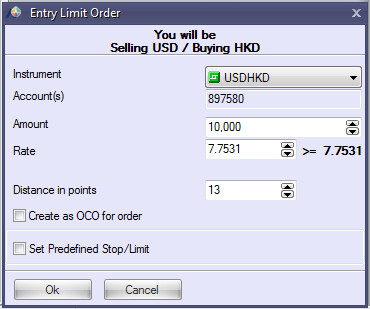 Het nieuwe venster dat dan verschijnt biedt u de mogelijkheid een tegengestelde instaporder naast de bestaande in te voeren (bijv. limietorder heeft als OCO-order een stoporder)

Wanneer de tweede instaporder is ingesteld, zal het ordervenster beide orders tonen, inclusief het nummer van de andere order.